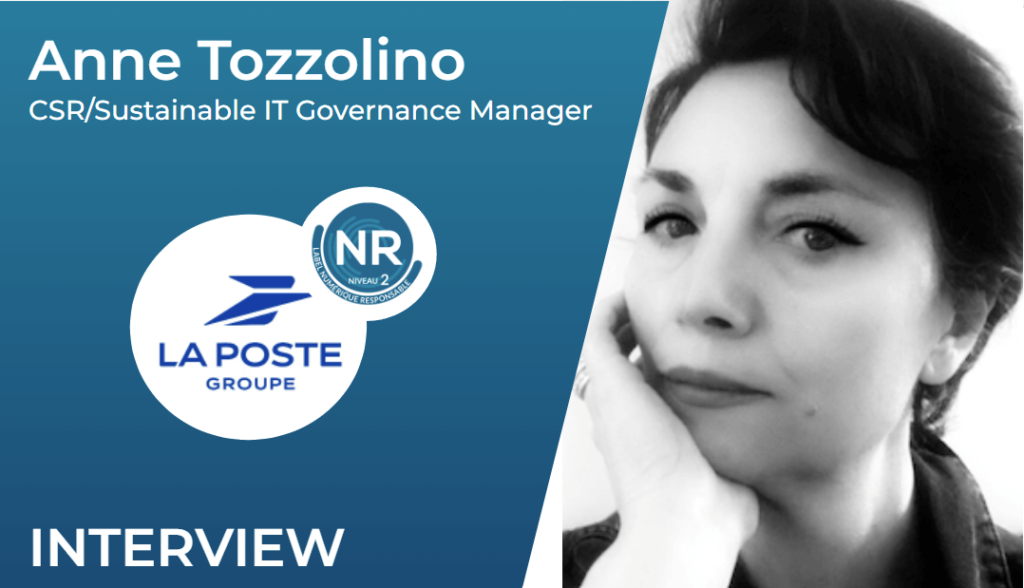 La Poste Group, a French and international operator of human proximity services (NB: 41% of turnover is made internationally), has been committed to a sustainable, inclusive and ethical IT approach since 2011. Already a signatory of the Sustainable IT Charter, co-founder and member of the INR France (ISIT France), the Group has also received the Level 2 Sustainable IT Label – the first organisation to obtain it in its new version. INR met with Anne Tozzolino, CSR/Sustainable IT Governance Manager, who shares with us the Group's commitment to a more Sustainable IT.
| Can you introduce La Poste Group and its values?
The LP Group is a service company and a major logistics provider (La Banque Postale, Le Colis, Le Courrier, Le Grand Public & Numérique, Géopost for international operations) but also a property owner managed by our subsidiary La Poste Immobilier. It also carries out four public service missions: universal postal service, transport and distribution of the press, regional planning and banking accessibility.
There are six historic values that make the Group an organisation dedicated to the common good:
Openness: taking a fresh look at society and being constantly attentive to its environment and its stakeholders in order to take into account their changes (ecological, demographic, digital and territorial transitions) and to offer them adapted solutions;
Consideration: recognising customers and employees with the attention and respect they expect;
Fairness: adapting and committing to respond with equal attention and efficiency to the diversity of situations and demands;
Accessibility: being available where and when customers need the Group. This means adapting delivery methods to new consumer habits via multi-channel delivery, being transparent and easily understood by offering easy-to-use and affordable services, and facilitating access to La Poste's services for people with disabilities or in precarious situations;
Proximity: listening, considering, dialoguing, respecting and being available for all customers;
A sense of service: this is a state of mind: putting ourselves at the service of the customer, putting the customer at the heart of procedures, offers and sales outlets.
These are values that form a foundation of trust.
| What encouraged the Group to take the Sustainable IT turn in 2011?
The key driver has been the CSR (Corporate Social Responsibility) strategy and the CSR/IS alignment to support the digital transformation.
For La Poste, CSR is an old story, if I may say so. In 2010, the LP Group began a major project to measure the carbon emissions of our operational activities.
In this ambition, it was clear that digital activities, both back office and digital service providers, obviously had their part to play: we set up a Green IT governance system bringing together the Group's CSRs and the various IT departments to work first on measuring the footprint of our equipment. Governance has evolved today, it concerns the impacts more broadly and must always be part of a transformation dynamic.
| How is Sustainable IT a fundamental part of the CSR strategy?
Today, the new strategic plan for 2030 and the transition to a company with a mission define the LP Group's ambition to be the leading European platform for links and exchanges, human and digital, green and civic, serving our clients in their projects and society as a whole in its transformations. In short, working for the common good remains the Group's primary DNA. There is therefore a much stronger commitment to ethical, inclusive and frugal digital technology. The challenge for us here is to confirm our role as a pioneer but also to prove in a more formal and visible way that we do what we say we will do.
LP Group is n°1 worldwide for CSR 3 years in a row since 2020 (Extra financial agency VIGEO EIRIS) : La Poste N°1 worldwide in CSR by the Vigeo Eiris agency – Youtube (available in French). This also includes ICT.
| What are the benefits of a Sustainable IT approach for a large organisation?
First of all, I would say that it is a fundamental act to be consistent/credible with the strategy defined and communicated by the organisation to its stakeholders. The benefits of this strategic anchoring are obvious:
For the commitment of our employees and their loyalty, particularly at a time when we are having difficulties recruiting digital skills. The younger generation is very attentive to the values of the companies in which they work.
But also for our clients, because they are the ones who ask us to do so. CSR, like NR, is not just about the planet or the inclusion of all people, but it is also an economic and resilience issue, let's not ignore it. NR is not about going digital – that's impossible – but about finding the balance between an organisation's survival and its values.
Finally, there is also the regulatory factor: standards are multiplying, both at national and European level.
It is also one of the major challenges of the French presidency of the European Union to raise the French standard to this level. The Sustainable IT, through its governance, its tools and its good practices, can prepare for this.
| Why is this an issue that governments need to address quickly?
For the three reasons I have just mentioned! And above all because, as the latest IPCC report shows, the planet has been suffering for a long time, humans have been suffering, and it is up to each and every one of us to come up with sustainable solutions or risk losing everything tomorrow. We must act quickly, without waiting.
| The Group is a signatory of the Sustainable IT Charter and a co-founding member of the INR/ISIT, why was it important to complement this commitment with the Sustainable IT level 2 label?
In the same logic that drove the new strategic plan, we know that we are pioneers but we can always progress and we just have to succeed in making this known.
The Sustainable IT label, for the IT department to which I belong, was a great opportunity to raise awareness among all our employees, but also to inform all our internal customers (this IT department has the Group as a customer!), and to set expectations/requirements for our suppliers in a Sustainable IT purchasing logic.
| How do you engage your internal and external stakeholders on this issue? How do you implement it in your projects and what are your results?
Through the Sustainable IT governance set up within the Group since 2018 and which I lead with my team of referents around the themes of frugality, inclusion and ethics of AI with the Societal Commitment Department, the Group DHA, and the contributions of the business CIOs, technical and logistics departments around digital, the Strategy Department, the International and European Affairs Department.
We are involved in the Group's work, for example in the HA process with the Group's DHA on the renewal of shared IT contracts.
But also through the appraisal of our projects: within the ITD's Architecture Committee, we evaluate, with my sustainable design and digital accessibility referents, among other expertise, the digital accessibility to which we are subject (compliance and usability) as well as responsible design more generally. We support the project teams in good practice, providing them with tools and guides so that change management can be carried out naturally at a very operational level.
There are also the events that we are putting in place, a Yammer community, the IS channel on skills, training, etc.
With the award of the Label, the IT Department has made even stronger commitments to frugality, accessibility and trusted AI with two major areas of focus: procurement and HR.
Externally, we are also very involved in the work of the industry: INR/ISIT of course, CIGREF, Manifeste Inclusion, etc. I regularly give feedback. I also talk a lot with the students, which brings a fresh perspective even though they are already very involved.
To summarise all of this, we have an Sustainable IT dashboard for the entity to monitor our commitments, collect all the indicators and use them in internal Group communications.
| What's next for the Group?
We chose to commit to the Label because I knew we would be ready for it. But we also had another intention: as the bearer of governance on Sustainable IT, we had to be exemplary, but also and above all to encourage other internal Sustainable IT initiatives on this Label. And we succeeded, because other Sustainable IT labels are underway.