Cyber World CleanUp Day took place from 14 to 19 March 2022. All over France, Switzerland and Belgium, thousands of citizens were invited to clean up their digital data and give a second life to their equipment: a look back on this third edition.
Cyber World CleanUp Day 2022
Since 2019, the initiative is co-sponsored by INR/ISIT and World CleanUp Day France. In 2022, it has been joined by the Swiss and Belgian ISIT: Institut suisse du Numérique Responsable and Belgian Institute for Sustainable It. This event is carried internationally by Let's Do It World Association under the name Digital Cleanup. The French initiative is recognised as a pioneer and standard bearer.
The objective of CyberWCUD is to create the conditions for a global awareness of the environmental impact of digital technology through a federative and convivial action that will allow us to concretely take the first step towards a more Sustainable IT: on the one hand, with the Cyber CleanUps Data, by cleaning up the data on our devices, clouds, servers, etc., and on the other hand, with the Cyber CleanUps Equipment – a new feature in 2022 -, by offering a second life to our digital equipment.
The Cyber WCUD aims to raise awareness and bring together companies, schools, associations, communities and citizens to take care of their digital equipment, to adopt new habits accessible to all, to extend its life and limit the purchase of new equipment and space to store more.
Cyber CleanUps Equipment: new 2022 component
The manufacture of office equipment accounts for more than 70% of the impact of the environmental balance sheet. At the end of its life, 70% of waste electrical and electronic equipment feeds an international illegal export traffic to countries in Africa or South East Asia. The Cyber WCUD reminds us that it is necessary to extend the life span by: re-use of functional equipment or via a standardised WEEE recycling channel, for non-functional devices.
Taking care of our digital equipment limits the rate of renewal, and thus reduces the amount of waste electrical and electronic equipment (WEEE).
Over 1,680 Cyber CleanUps organised
Mobilisation from all walks of life
This third edition recorded 1,686 Cyber CleanUps (Data and Equipment) in France, Switzerland and Belgium, that is 3.3 times more than in 2021. The organisers brought the event to life and reached more than 450,000 people (estimates) mostly remotely, but also in person.
The Cyber WCUD belongs to everyone. The event brought together citizens and all types of organisations, each with their own digital skills.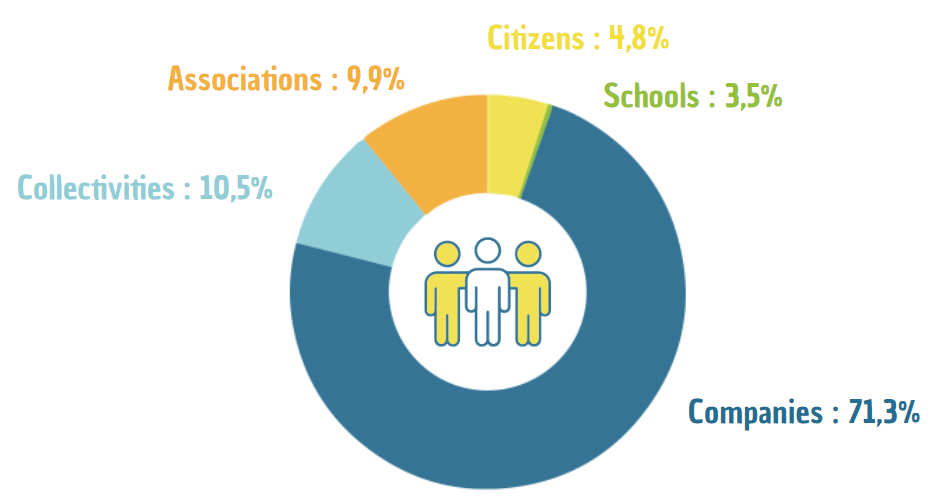 Cyber CleanUps in France, Belgium and Switzerland
Cyber CleanUp events have been organised all over mainland France and Overseas France but also in Switzerland and Belgium, under the impulse of the national ISIT's!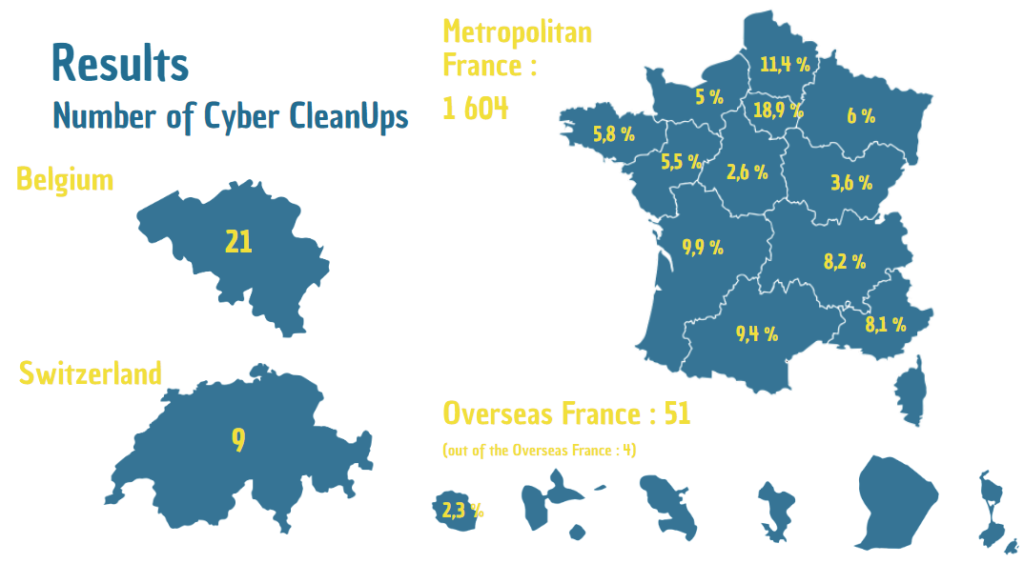 The results of the Cyber World CleanUp Day
Results based on 64% of balance sheets collected
Cyber CleanUp Data
945 Cyber CleanUps were organised. A total of 1,927 TB of data were deleted (compared to 58 TB in 2021) :
1,309 TB in the cloud:

29,157,518 e-mails or 315 TB
39,874 publications and messages on social networks
34 060 491 drive files or 994 To
618 TB locally :

10,661,160 laptop files or 584 TB
22,075,270 fixed computer files or 30 TB
153,539 smartphone files or 4 TB
363 tablet files or 589 GB
Internationally in 2022, the global Digital Cleanup Day movement (which includes Cyber WCUD) cleaned up 2,733,264 GB of data.
Cyber CleanUp Equipement
To carry out this first edition of the « Equipment » component, the Cyber WCUD collaborated with Ecologic and Emmaüs Connect (LaCollecte.tech) in France, Noops in Switzerland and Recupel and Circular Brussels in Belgium. In total, 741 Cyber CleanUps Equipment were organised. The organisers of Cyber CleanUps were responsible for collecting the equipment (functional or not) and calling on an organisation of their choice (Cyber WCUD partners or not) to recover the equipment in order to recycle or reuse it.
At the end of the event, 5 472 kg of WEEE were collected for recycling and 2,298 working devices were recovered for reconditioning, including :
1,315 smartphones
690 desktop computers
253 laptops
40 tablets
CO2 equivalents (Cloud + Equipment)
Read : Note on Methodology and Data used for the analysis and assessment of the 2022 edition
This represents 464 T CO2 eq:
2,406 km of convoying between Lille & Marseille (1,000 km)
215 round trips from Paris to New York
2,977 laptops manufactured
14,160 smartphones manufactured
13,270 trees to absorb the CO2 generated
Infography 2022
A fun and friendly event
Numerous guides and tools have been created by the Cyber WCUD team to facilitate the structuring, communication and facilitation of Cyber CleanUps of data and equipment. The organisers have also been creative in organising educational and user-friendly Cyber CleanUps.
Awareness and clean-up workshops, challenges, quizzes, videos, infographics… are all means and tools used by the Cyber Cleaners to inform and mobilise employees on the subject of Sustainable IT use.
Cyber World CleanUp Day in 2023
From 2023 onwards, in order to promote the visibility of the event on a global scale and to align with actions already underway internationally, Cyber World CleanUp Day will become Digital Cleanup.
The event will take place from 13 to 18 March 2023! We are expecting many of you!